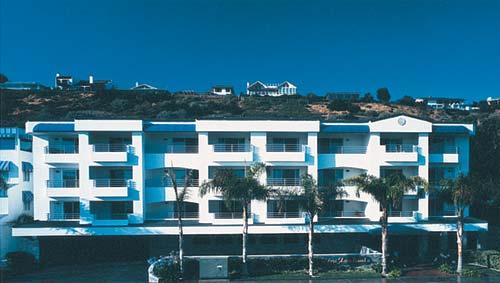 Riviera Shores Resort Capistrano Beach California Condo Vacation Rentals Offered
At Riviera Shores Resort Capistrano Beach California, we offer one-bedroom condo vacation rental weeks.  These elegant and spacious 1BR Monarch Grand Vacations Club condo vacation rentals include a king bed in the bedroom, queen sofabed in the living room,  kitchen, deck or patio.
Riviera Shores Resort Capistrano Beach Condo Amenities
A sun-drenched Southern California vacation awaits you at the Riviera Shores Resort. Kick up your heels or just kick back! At the Riviera Shores Resort, the world IS your oyster! While in residence at the Riviera Shores Resort, you'll enjoy two swimming pools, whirlpool spa, fitness center, sauna, tanning bed and  many optional activities to fill your day for both adults and children.
Every villa includes a partial kitchen (no oven), two TVs, and an outdoor BBQ. Many villas even include a whirlpool bathtub! Soaking up the California sun has never been this fun at the Riviera Shores Resort.
Riviera Shores Resort Capistrano Beach Resort Amenities
Two Swimming Pools
Jacuzzi & Sauna
Sky View Restaurant
Adult Lounge
Big Screen TV
Pool Tables
Children's Game Room
Fitness Center
Ping Pong
Children's and Adult Activities
Bike Riding
Access to Beach
Activities Center
Condo Vacation Rental Availability Riviera Shores Resort
We have a 1BR villa available for these dates:
None at this time.
Compare at $1334 per week including tax, resort rate (source: Expedia.com).  Rent from us and save!
Please click here to check availability or to rent your week with Paypal or credit card.
The prices shown are the TOTAL prices. There are NO additional charges (such as sales or lodging taxes, cleaning fees, deposits, booking fees, etc.). The price you see is the price you pay!
We have made renting a week fast, easy, and most importantly, safe! You won't be reading the numbers off your credit card to some stranger on the phone (who knows where those might end up?).
Instead, your payment is handled discretely and securely by PayPal, which is an eBay company. If you are already a PayPal member, you are familiar with the benefits of using PayPal to buy on the Internet. If you don't have a PayPal account, that's alright, you don't need one! PayPal's secure system allows you to use any major credit card to make your payment. There is no cost to you for using PayPal, and by using a credit card, your purchase is protected and your peace of mind assured.
So, go ahead, click here and get your week!
Riviera Shores Resort Capistrano Beach, California Area Amenities
Our Capistrano Beach vacation rentals are close to many outdoor adventures. Guests of the Riviera Shores Resort enjoy sailing, boating, surfing, snorkeling, tennis, golf, hiking and much more. For ideas of other popular outdoor activities that your family may enjoy, just ask any of the staff at our resort.
Here are several local spots around Orange County that you won't want to miss:
State Parks and Beaches Near Capistrano Beach 
Doheny State Beach
25300 Dana Point Harbor Dr.
Dana Point, CA 92629
949-496-6172
Caspers Wilderness Park
33401 Ortega Hwy
San Juan Capistrano, CA 92675
949-923-2210
Aliso-Wood Canyons Wilderness Park
28373 Alicia Pkwy.
Laguna Niguel, CA 92677
949-923-2200
San Clemente Pier
Avenida Del Mar
San Clemente, CA 92672
949-492-1131
Laguna Niguel Regional Park
28241 La Paz Rd.
Laguna Beach, CA 92677
949-923-2240
Corona de Mar State Beach
Iris Street and Ocean Blvd.
Corona del Mar, CA
949-644-3151
Water Recreation Near Capistrano Beach
Newport Landing Sportfishing
309 Palm St. Ste A
Newport Beach, CA 92661
949-675-0550
Dana Point Jet Ski Rentals
34671 Puerto Place
Dana Point, CA 92629
949-661-4947
Dana Wharf Sport Fishing
34675 Golden Lantern St.
Dana Point, CA 92629
Capo Beach Water Craft Rental
34512 Embarcadero Place
Dana Point, CA 92629
949-661-1690
Aventura Sailing
24650 Dana Point Dr.
Dana Point, CA 92629
949-493-9493
Mark Howe Sailing Cruises
31902 Aguacate Rd.
San Juan Capistrano, CA 92675
949-496-3453
Dolphin Safari
Leaving from Dana Point Harbor
949-488-2828
Dana Point Harbor
Embarcadero Place
Dana Point, CA 92629
949-496-6177
Orange County Area Golf Courses
Shorecliffs Golf Course
501 Avenida Vaquero
San Clemente, CA 92672
949-492-1177
San Juan Hills Golf Club
32120 San Juan Creek Rd.
San Juan Capistrano, CA 92675
949-493-1167
Monarch Beach Golf Links
22 Monarch Beach Resort N
Dana Point, CA 92629
949-240-8247
Talega Golf Club
990 Avenida Talega
San Clemente, CA 92673
949-369-6226
Pacific Golf & Country Club
200 Avenida La Pata
San Clemente, CA 92673
949-498-6604
Arroyo Trabuco Golf Club
26772 Avery Pkwy.
Mission Viejo, CA 92692
949-305-5100
Tourist Attractions Near Capistrano Beach
You'll have plenty of opportunities for fun and recreation when you choose the Riviera Shores Resort in Capistrano Beach. Many of these attractions are a short drive away and offer something for just about everyone. For other ideas of attractions you may want to explore, ask our knowledgeable staff.
Disneyland
1313 S Harbor Blvd.
Anaheim, CA 92802
714-781-4565
Experience where the magic began at Walt Disney's original theme park that features eight themed lands with classic Disney characters, favorite attractions, live entertainment, and parades. The Park offers more than 60 major rides, 50 shops and 30 restaurants, as well as night fireworks shows during peak periods. Disneyland is about 31 miles north of the Riviera Beach & Spa Resort.
Universal Studios
100 Universal City Plaza
Universal City, CA 91608
1-800-UNIVERSAL
Universal Studios takes you behind-the-scenes and on the sets where movies are made. Be sure to visit LA's coolest restaurants, clubs and fun at Universal CityWalk, all located 67 miles from our resort in Capistrano Beach, CA.
Beverly Hills
Located 68 miles from our resort, you'll find all the posh shopping and dining you could ever want in Beverly Hills. For more information, be sure to check out the Beverly Hills Conference and Visitors Center.
Knott's Berry Farm
8039 Beach Blvd.
Buena Park, CA 90620
714-220-5200
Located just 37 miles from the Riviera Beach and Spa Resort, this exciting theme park is one of the main tourist attractions in Southern California. The park consists of six themed areas, including Camp Snoopy, Ghost Town, the Boardwalk and more. Besides dozens of rides and attractions, the park also features special live music and theater performances, great restaurants and many shops.
Sea World
500 Sea World Dr.
San Diego CA 92109
800-25-SHAMU
Families of all ages love this classic theme park located 60 miles south or our resort. Enjoy live animal shows, educational adventures and one-of-a-kind marine exhibits.
San Diego Zoo
2920 Zoo Dr.
San Diego, CA 92101
619-234-3153
This world-famous establishment is clearly no ordinary zoo. Walk or ride a double-decker bus throughout this expansive park, home to over 4,000 rare and exotic animals exhibited in beautiful garden habitats. More than a park, this zoo is a major research facility, although it is cleverly disguised with entertaining shows and inspiring exhibits like Polar Bear Plunge and Hippo Beach. Located 65 miles south of our resort.
Wild Rivers Water Park
8770 Irvine Center Dr.
Irvine, CA 92618
949-788-0808
Near Orange County's technology hotbed lies this 20-acre site, featuring more than 40 water rides for all ages. The park includes inner tube rides, water slides, wave and activity pools, children's play areas and much more. This popular summertime family attraction is located just 15 miles from our resort.
Orange County Zoo
1 Irvine Park Rd.
Orange, CA 92869
714-973-6847
The Orange County Zoo is located about 28 miles north and focuses on animals and plants native to the southwestern United States.
Contact Information
If you have any questions or need any help regarding anything on our website, please do not hesitate to contact us. Our email address is [email protected], and our telephone number is (520) 761-1412.
This slideshow requires JavaScript.