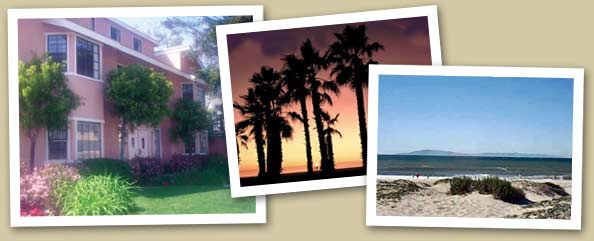 Channel Island Shores Resort Oxnard Condo Vacation Rentals Offered
Channel Island Shores Resort Oxnard California offers One and Two Bedroom lodging accommodations.
The one bedroom "Anacapa" holiday rental sleeps 4 people and is furnished with a king bed in the bedroom, a full sofa sleeper in the living room, and one full bathroom.
The two bedroom standard vacation villa ("Santa Rosa" suite) sleeps 6 and the 2BR premium condo vacation rental ("Santa Cruz" suite) sleeps 8 people. The 2BRs feature all queen beds (the two bedroom floor plans vary and some condos are set up as a bedroom plus a loft), queen sofa sleeper, and one and one-half bathrooms (some two bedroom suites have two full bathrooms).
Each suite has a fully equipped kitchen, DVD player, and hair dryer(s).   Many condos have private balcony with ocean view, hot tub,  and gas grill, and some units have stack or side-by-side washer and dryer.  Maximum occupancy in each suite includes children regardless of their age.
Click here for more information, including photos and a very good YouTube video showing unit furnishings and attractions.
Condo Vacation Rental Availability Channel Island Shores Resort Oxnard
We have 1BRs available.
In addition, the resort collects a weekly resort amenity and WiFi fee (mandatory) at check-in (this charge is about $100, and is subject to change).
Regular resort rate for the one bedroom is $1731 and the two bedroom $1864 per week (source: channelislandshores.org).  Compare and save!
Except as noted, the prices shown are the TOTAL prices. There are NO additional charges (such as sales or lodging taxes, cleaning fees, deposits, booking fees, etc.). The price you see is the price you pay!
We have made renting a week fast, easy, and most importantly, safe!  You won't be reading the numbers off your credit card to some stranger on the phone (who knows where those might end up?).
Instead, your payment is handled discretely and securely by PayPal.  If you are already a PayPal member, you are familiar with the benefits of using PayPal to buy on the Internet.  If you don't have a PayPal account, that's alright, you don't need one!  PayPal's secure system allows you to use any major credit card to make your payment.  There is no cost to you for using PayPal, and by using a credit card, your purchase is protected and your peace of mind assured.
So, go ahead, click here to get your week!
We have access to other unlisted weeks, which you may search for using The Vacationator search engine tool.
Channel Island Shores Resort Oxnard Overview
Let Channel Island Shores Resort Oxnard introduce you to the pleasures of the California coast. Ride the waves on a surfboard, charter a fishing boat and bring home a seafood catch, or enjoy a whale watching adventure. Explore Channel Islands National Park or take side trips to Malibu Beach, Santa Barbara, and Los Angeles. It's a world of Pacific fun! Water Activities like snorkeling, scuba diving, and swimming are offered close to the resort.
Channel Island Shores Resort Oxnard Onsite Amenities:
Hospitality Suite
Board Games
Gas Barbecues
Private outdoor Spas (with some suites)
Book Library
Complimentary Movies (VCR)
Complimentary Local Calls
Laundry Facilities (in some suites)
Beach (1 Block)
Area Amenities:
Malibu Beaches (30 miles)
Santa Barbara Beaches (38 miles)
Golf Course
Harbor
Marina
Restaurants
Shopping
Sight Seeing
Cruises
Waterskiing
Contact Information
If you have any questions or need any help regarding anything on our website, please do not hesitate to contact us. Our email address is [email protected], and our telephone number is (520) 761-1412.
This slideshow requires JavaScript.