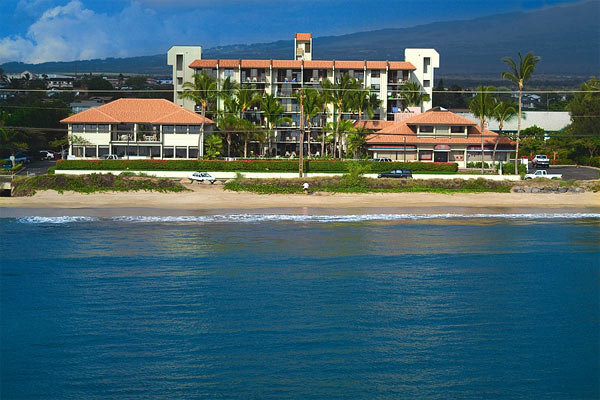 Maui Beach Vacation Club Kihei Condo Vacation Rentals Offered
You'll Find Your Aloha at the Maui Beach Vacation Club Kihei, on the southwest coast of Maui.  Spectacular ocean views abound all around this resort, and you'll find all the comforts of home in your tastefully decorated 641 square foot one bedroom villa.
Most one bedroom holiday accommodations are located on the ground floor, with a garden lanai (patio) and immediate access to the swimming pool.  Please be aware that ocean views will be limited from these ground floor units.
The one bedroom lodgings sleep 4 people in a king bed in the master bedroom, and queen sofabed in the living room.  There is a full kitchen, washer and dryer, and no AC (ceiling fans are provided for cooling). The resort is directly across a street from the ocean beach, and beach parks are nearby.
Internet access is available for $40 a week, and no occupancy taxes are collected at check-in.
Available Dates at Maui Beach Vacation Club Kihei
Please click here to check availability or to rent a week.
We have made renting a week fast, easy, and most importantly, safe! You won't be reading the numbers off your credit card to some stranger on the phone (who knows where those might end up?).
Instead, your payment is handled discretely and securely by PayPal, which is an eBay company. If you are already a PayPal member, you are familiar with the benefits of using PayPal to buy on the Internet. If you don't have a PayPal account, that's alright, you don't need one! PayPal's secure system allows you to use any major credit card to make your payment. There is no cost to you for using PayPal, and by using a credit card, your purchase is protected and your peace of mind assured.
So, go ahead, click here and get your week!
If you need a week somewhere (or sometime) else in Hawaii, please consider these resorts:
Ke Nani Kai (Molokai)
Pono Kai (Kauai)
Royal Kuhio (Honolulu)
Sea Mountain Punalu'u or Sea Village Kona (Big Island of Hawaii)
then search and enjoy using The Vacationator.
Maui Beach Vacation Club Kihei Onsite Amenities
Washer/Dryer (In room)
Hot Tub Outdoor
Outdoor Swimming Pool
Full Kitchen
Bar/Cocktail Lounge
Restaurant
Gas BBQ Area
Maui Beach Vacation Club Kihei Area Amenities
Auto Rentals
Bicycle Trails
Live Entertainment
Fishing
Grocery/Convenience Store
Sailing Rentals
Tennis Beach
Boat Marina/Launch
Equipped Exercise Room
Golf
Playground
Scuba Diving
Video Rental
Contact Information
If you have any questions or need any help regarding anything on our website, please do not hesitate to contact us. Our email address is [email protected], and our telephone number is (520) 761-1412.