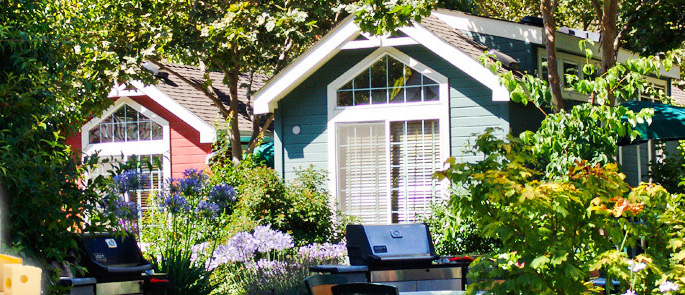 Riverpointe Resort Napa California Condo Vacation Rentals Offered
Current weekly vacation rental availability: None, please request your dates (weekly rentals only).
RiverPointe Resort Napa Valley provides luxury 5 star lodging in the heart of California's wine region.  The charming modular cottages of RiverPointe Napa Valley's timeshare rentals are sure to give you the vacation that you've always wanted. These delightful cottages suit any type of vacation. With nearby attractions including over 300 wineries, a retreat at RiverPointe Napa Valley is a vacation well worth the stay.
RiverPointe Resort offers studio, one and two bedroom condo vacation rentals.  Each cottage is fully-furnished, with an array of floor plans. Guests can enjoy room amenities such as 19″ TV, full kitchen, king/queen sized bed, sofa sleeper, and deluxe bathrooms.
Our price includes hotel taxes and housekeeping charges, but an additional fee ($12 per night, as of June 2016) for resort amenities (such as internet and parking) will be collected at the Front Desk upon arrival.
Riverpointe Resort Napa Condo Amenities
One Bedroom Condominium: Sleeps: 4 people Bed Type(s): Queen Size Bed & Queen Size Sofa Sleeper Bathroom(s): One Bathroom
Bedroom: Queen Size Bed Flat Screen TV Air Conditioning/Heating Alarm Clock All Units are Non-Smoking
Bathroom: Hair Dryer Ironing Board with Iron
Living Room: Queen Size Sofa Sleeper Shared Deck Air Conditioning /Heating TV/CD Player/VCR Telephone Wi-Fi Internet Access
Dining Room: Place Settings Ceiling Fans
Full Kitchen: Pots & pans Coffee Maker Microwave Full Size Refrigerator Stove Top Toaster
RiverPointe Resort Napa Onsite Amenities
On-site amenities include indoor/outdoor games, outdoor heated swimming pool, two outdoor hot tubs, small workout room, and complimentary laundry facilities.
Ready to rent? Please click here to check availability or to rent your week. Don't see what you need? Try a search with The Vacationator.
Area Amenities:
Castello Di Amorosa – the Castle
Castello Di Amorosa, Napa Valley's premier castle winery, owned by Dario Sattui who is also current owner of V. Sattui Winery. The "Castle" is a replica medieval Italian castle. Construction took 20 years to complete and is a great tour for young and adult alike!
This small museum is a gem, stuffed to the gills with old fashioned fire trucks, hand drawn hose carts, a horse drawn fire truck, whole collection of toy fire trucks, hats, uniforms, hoses, nozzles, fire alarm boxes, model fire house, and two huge stuffed Dalmatian dogs. Contact: Jerrett Anderson Address: Napa City Firefighters Association 1201 Main Street, Napa, CA 94559 Phone:(707)259-0609.
The Napa Valley Opera House was built in 1879 as one of the first "respectable" venues west of the Mississippi River. For the latter half of the 19th century, the Napa Valley Opera House was the cultural center for the region, until the decline of vaudeville and other pressures forced it to go dark in 1914.
Old Faithful Geyser of California
In the heart of the wine country, experience the wonders of nature's geysers and the mineral waters and spas that have become destinations for millions of world wide travelers.
Step back in time, over 3 million years, and follow the trail of majestic petrified redwood giants arrayed before you in a fascinating grove in beautiful California wine country.
Safari West Wildlife Preserve and African Tented Camp. The wildlife park is designed to give the animals the ability to interact and roam about freely, as well as engage our guests in a once in a life time experience — an African luxury safari in the wine country.
Sonoma TrainTown Railroad, Rides & Petting Zoo
TrainTown is a 10 acre amusement park with small scale trains, a petting zoo, carousel, roller coaster and more nestled among a nice park with redwoods. Limited operation hours – call (707) 938-3912 for information.
Contact Information
If you have any questions or need any help regarding anything on our website, please do not hesitate to contact us. Our email address is [email protected], and our telephone number is (520) 761-1412.
This slideshow requires JavaScript.